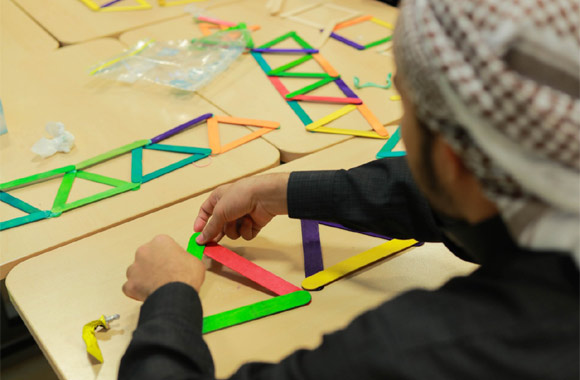 ABU DHABI: 10th January, 2019 - The Abu Dhabi Department of Education and Knowledge (ADEK) in cooperation with the UAE Ministry of Education, has successfully concluded the 2018/19 Winter Activities Program, which was held under the slogan, The UAE Spirit Camp.
Diverse program events ran from 16th December to 10th January 2019 where 1,160 students participated in three main specifically designed projects: Sir Bani Yas Challenge, the Future Leaders Journey and Heritage, Culture and Science at Community Schools, which are aimed at raising a creative generation while optimizing a student's time during the school holiday. ADEK's priority is to focus on promoting national identity amongst students.
His Excellency Dr. Yousif Al Sheryani, ADEK's Undersecretary said, "We are delighted with the success of the Winter Activities Program. Its results were outstanding, as demonstrated through the active participation and great interaction from participating students.. The program aims to instill national pride and loyalty in students and enhance their understanding and appreciation of Emirati culture, while enhancing their skills and inspiring a sense of team spirit, helping them become more aware of their responsibilities towards the community."
Dr. Al Sheryani added, "The Winter Activities Program targeted students across different Grades, who took part in integrated programs designed to fit the requirements of each age group. At the same time, the program helped enhance skills of our students and develop their personalities and talents through a series of initiatives and projects aimed at making the best use of their time during school holidays. This is part of ADEK's priority of focusing on promoting the national identity of students."
One of the participating students commented on the Future Leaders Journey program, saying, "I was very happy to participate in this program. I learned the true meaning of leadership and the characteristics of a successful leader. The program also contributed to developing my personality to become a reliable person in senior leadership positions."
Another student said, "I would like to thank ADEK for giving me the chance to learn more about our old Emirati customs and traditions, and the history of our nation which dates thousands of years back."
One of the female participants said that the program has added a lot to the participant's personal lives. "It has helped enlighten our minds as leaders of the future, and inspired us to choose our favorite field."
The first project of the Winter Activities Program, the Sir Bani Yas Challenge, took place from 16th to the 20th December 2018, during which 60 high school students participated. The students, in ten teams of six, learned and competed with each other in several different disciplines according to their skills and capabilities. The program included scientific, environmental, sports and cultural activities which aimed to provide students with leadership and responsibility skills by fully engaging them in a variety of undertakings.
The Future Leaders Journey was the second project in ADEK's Winter Activities Program and ran from 21st to 30th December 2018 with 100 students divided into three groups taking part in the program.
Core activities including field trips to historical, cultural, scientific and national landmarks in the nation were arranged along with workshops formulated to improve a student's ability, while providing them with skills, experience and knowledge necessary to prepare them to be leaders of the future.
The last project of the Winter Activities Program, Heritage, Culture and Science at Community Schools ran from 23rd December to 10th January 2019 for all Grade levels.
The program consisted of four basic pillars: Science and Maths, Robotics and Programming, Sports and Health, and Culture and Heritage, accommodating approximately 1,000 students divided into three groups with the purpose of instilling a sense of national pride amongst students, enhancing their awareness and appreciation towards the Emirati culture, while boosting their skills in introductory fields of knowledge.
The Winter Activities Program in Abu Dhabi is part of a series of strategic initiatives adopted by ADEK to raise a well-versed educated generation in skills necessary to serve the community.