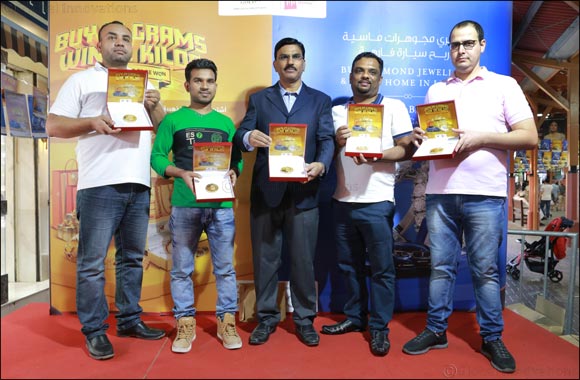 First 10 days saw 40 customers winning a total of 10 kg gold
1st BMW winner was announced during the weekend draw
4 more weeks of exciting promotions and chances to win big
Dubai; January 07, 2019: The DSF promotions by Dubai Gold & Jewellery Group (DGJG) in association with Dubai Festival & Retail Establishment (DFRE), witnessed an overwhelming response within the first 12 days of the extravagant shopping festival. The daily draws surprised 40 lucky gold and a diamond jewellery shopper who took home 250 gm of gold each a luxurious BMW car respectively.
Announcing the names of the winners at the weekly draw, Tawhid Abdullah – Chairman, Dubai Gold & Jewellery Group said, "I congratulate all the winners and would like to wish the best to all the jewellery shoppers for the win. Jewellery shoppers have shown a lot of enthusiasm this season, and so far the participation to this year's DSF promotions has been excellent."
The daily raffle draws for gold customer will continue till the end of DSF where 22kg of gold is still to be won, along with 6 Samsung 65" Smart TVs, and several gold bars of 100 grams each will also be raffled during the extended week of the DSF. Four weekend draws will also witness 4 lucky customers winning BMW cars.
Mr. Tawhid Abdullah added, "Our two exclusive promotions have given extra benefits to the shoppers and has also provided the right momentum to the retail sector this Dubai Shopping Festival (DSF). This season is bigger than ever and a lot of local and international customers are expected to take advantage of this unique offering. Both our promotions have been well received and we expect the momentum to continue"
GOLD JEWELLERY RAFFLE PROMOTION
Upon the purchase of AED 500 from any of the participating jewellery outlets, customers will be entitled to one raffle coupon that can win them;
Daily gold prizes from 7th January 2019 to 26th January 2019 and one lucky winner on 2nd February who will take home 1 kilo of gold
The last week of DSF to see, 6 shoppers winning 100-gram gold bars and 6 Samsung 65" inch 4K UHD Smart Curved TVs from 27th January to February 1st
DIAMOND JEWELLERY RAFFLE PROMOTION
Upon the purchase of AED 500 from any of the participating jewellery outlets, customers will be entitled to one raffle coupon that can win them;
4 BMW cars during the weekly raffle draws from 12th January to 2nd February 2019