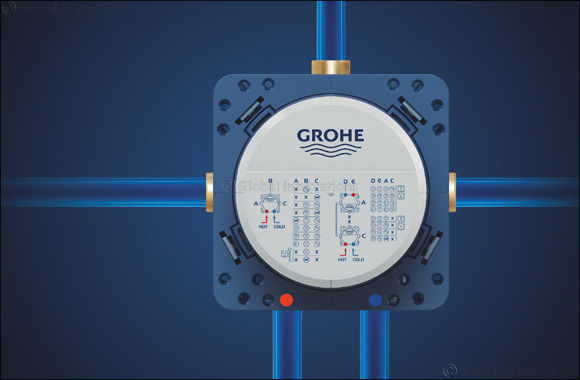 Single lever mixer, thermostat or SmartControl – the right solution for everyone
Less installation effort, more shower options
New designs and colours set highlights in the bathroom
United Arab Emirates, Dubai, 10 December 2018. Space is often limited making it very valuable. Flush-mounted installations provide more space in the shower without sacrificing functionality or comfort. They also offer additional practical advantages: cleaning is quicker and more convenient. With its concealed installation, the new GROHE Rapido SmartBox not only offers more space in the shower, but also allows a higher degree of flexibility as well as a high scope of planning and installation security. The extensive selection of fittings in various designs, shapes, colours and finishes makes the bathroom shine with an individual look.
Ultrathin Design for Additional Space in the Shower
To make the most of the limited space available, one can now rely on a particularly 'slim' duo: GROHE SmartControl concealed in combination with the new GROHE Rapido SmartBox. The installation of the technology behind the wall and the ultra-slim design of only 43 mm of projection on the wall create additional space in the shower. SmartControl concealed is controlled by using the same self-explanatory push and turn technology than exposed version to individually choose shower spray type or control water volume – one panel can control up to three shower functions for a truly customised shower. Users can choose between a round or square design. In addition, two different surfaces are available: the Classic Chrome surface or the discreet, elegant MoonWhite acrylic glass.
Each version fits perfectly into the respective GROHE design line. The SmartControl panel is already available in SuperSteel and Brushed Hard Graphite and as of May 2019, there will seven other GROHE PVD colour designs.
Individual Control via Simple Rotary Handle Mechanism
The new two-handle thermostats can be installed for convenient temperature and water flow control. They are compact, space-saving and combine precise performance with a slim, minimalist design. The ease of operation is particularly important. Safety, comfort and a relaxing showering experience have been in the focus of developing GROHE thermostats ever since. Equipped with the leading technology, the GROHE TurboStat thermostat reacts within fractions of a second to pressure and temperature fluctuations in the supply lines. The mixing ratio of cold and hot water is continuously adjusted so that the temperature selected remains constant. Both, head shower and hand shower, can be controlled by intuitive rotation of the Aquadimmer handle. The top panels are available in a round and a square design. From now on, the two-handle thermostats will be available in thinner versions with only 43 mm outreach.
Comfortable and Simple Operation for Unlimited Showering Pleasure
In addition to GROHE's single-lever mixers for showers with one function or with two-way diverter, the installation of GROHE's three-way single-lever mixers is possible. The upper button of the mixer lets users select the spray type of the shower. One can choose between a powerful jetspray, a relaxing rainshower thanks to the multi-jet shower head or a hand shower. The lower handle provides comfortable and intuitive temperature and water control. GROHE single-lever mixers are designed for functionality and captivate with their stylish, slim design. They can be individually selected for all GROHE designs and properly adapt to any style thanks to the extra-thin wall plate.
Simply Universal: GROHE Rapido SmartBox – Unites All Advantages Behind the Wall
Less installation effort and lower costs! The GROHE Rapido SmartBox has three outlets for a wider range of shower options and creates what used to require two flush-mounted units.
Thanks to the optional pre-barriers, the GROHE Rapido SmartBox allows complete control over the water supply in just a few steps.