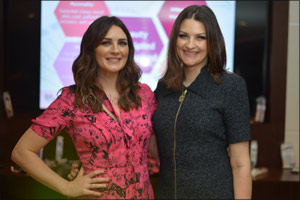 Dubai, UAE, November 29, 2018: After wooing the make-up aficionados worldwide, the 'Pixiwoo' famed celebrity make-up artists Samantha & Nicola visited Dubai on the 14th and 15th of November, to share and demonstrate some of the beautiful make-up tutorials using their own line of brushes called Real Techniques.
The training session was totally inspiring and gave the budding artists an insight into accomplishing make-up with finesse. Samantha and Nicola believe that doing make-up is an art, mastered with time and experience. Blending your own techniques into what is defined, will add to a personal touch. That is what will make you stand apart. To achieve the perfection of doing make-up, all you would need is the set of Real Techniques brushes which in their latest limited editions have a beautiful new look and metallic finish.
The training session was followed by an evening event in Lifestyle showroom @ Mall of the Emirates. The Chapman sisters received a warm welcome and an overwhelming response to their make-up demos and lively interaction with beauty bloggers and fans inside the showroom.
Upon asking about how they feel about their visit to Dubai, both said, "We feel great to be here and are happy about the fact that people are loving our range of make-up brushes. Our goals have always been to offer something that's valuable and cruelty-free. Our love for make-up motivates us to explore more and provide something new to our clients every now and then." They were especially impressed with many fans who claimed to be collectors of their special brushes and also conducted a raffle where many of the fans won the limited edition essentials pack, especially brought for this event and also signed packs directly from them.