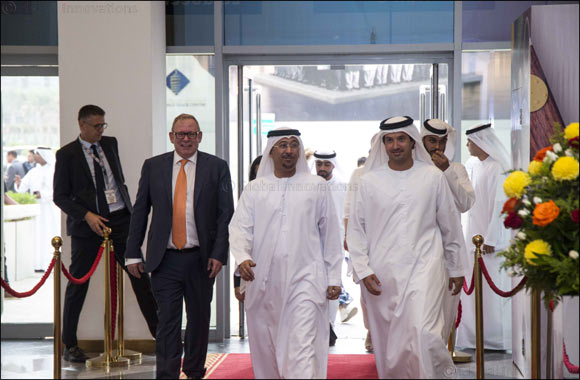 GulfHost Restaurant Development Conference spotlights key industry challenges and opportunities
2,500 local, regional and international brands demonstrate the latest innovations transforming the hospitality industry from foodservice equipment to speciality food, sweets, snacks and seafood.
Dubai, UAE, October 30, 2018: The 2018 edition of GulfHost, the complete hospitality equipment sourcing Expo for the Middle East, Africa and Asia and the co-located Speciality Food Festival, SEAFEX and yummex Middle East, were officially opened today by His Excellency Dawood Al Hajiri, Director General of Dubai Municipality.
H.E Al Hajiri toured the shows alongside H.E Helal Saeed Almarri, Director General of Dubai World Trade Centre Authority (DWTCA) and Dubai Tourism and Commerce Marketing (DTCM), viewing some of the latest innovations, developments and trends shaping the regional and global hospitality industry. More than 2,500 local, regional and international brands are showcasing more than 8,000 products across six core sectors: Front of House, Back of House and Tableware, and new-for-2018 sectors Café & Bar; Gelato & Bakery and HORECA, at Dubai World Trade Centre (DWTC) until 1 November.
Food for Thought Discussions
A key highlight on day one was the opening of the much-anticipated GulfHost Restaurant Development Conference powered by the International Center for Culinary Arts in Dubai (ICCA) and the Middle East Food Forum (MEFF). Among the key regional industry thought leaders who are taking the stage on the opening day are Duncan Fraser-Smith, Director, Global Food and Beverage at the First Group, who delivered the opening keynote address, and Emma Banks, Managing Director, JRG Dubai. Day one of the conference, which runs for all three days, featured luminaries such as Akhilesh Bahl, Founder & CEO, Malt & Salt Hospitality Management; George Kunnappally, Managing Director, Nando's UAE LLC; and Moiza Saeed, Regional Director, Zomato Gold.
Headlining a panel discussion on 'UAE - Retaining the New Consumer' Malt & Salt Hospitality Management Chief Bahl, who is also CEO of Chin Chin Group of Group of Restaurants, will discuss the shifting consumer trends and the latest techniques of restaurant owners to attract and retain customers.
"It is imperative for all restaurant operators to focus on superior customer service, a great menu mix and responsible marketing in managing customer expectations thereby generating value and retaining precious customers." Bahl said.
Panel member George Kunnappally, Managing Director, Nando's UAE LLC, added: "In a highly competitive market like the UAE, with a discerning and demanding customer base, premium casual dining brands like Nando's tap technology – be it Wi-Fi, mobile payment gateways, proximity marketing, partnerships with online delivery aggregators and more to stay ahead of the curve and offer personalised service and a consistently superior product across our restaurants."
Meanwhile, Baasab Deyb, Partner – Assurance & Advisory, RSM Dahman UAE put the spotlight on VAT in his session on 'Advent of VAT and its effect on F&B Sales Growth'. He added: "Food and beverage sales in UAE continue to grow and are seeing very marginal impact on growth rate following implementation of UAE VAT"
Between now and Thursday, foodservice professionals can drop into the conference, at Trade Centre Arena, to hear more than 60 high-profile speakers sharing proven methods for navigating the latest industry shifts, with a host of sessions focusing on GCC-wide endeavours.
"The region's expanding F&B market provides extensive opportunities for established industry players, new market entrants and start-ups to thrive," said Trixie LohMirmand, Senior Vice President, Exhibitions and Conferences, DWTC. "Catering to all consumer and market needs, GulfHost and our trio of bespoke food shows offer exhibitors and visitors the perfect platform to connect, network, share insights, and conduct business under one roof."