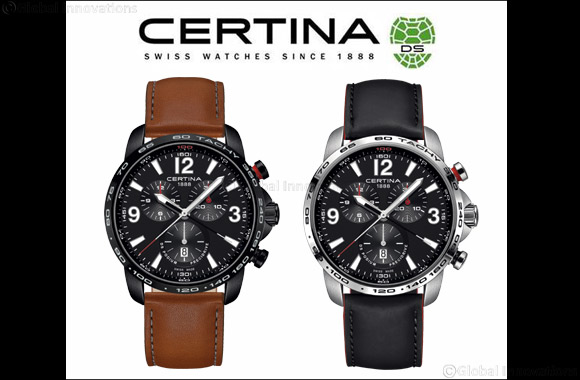 Dubai, UAE, October 09, 2018: Technical innovation meets watchmaking experience in these models. The complex 1/100th second display is combined with an ultra-precise Precidrive™ movement of the latest generation.

The symbol of the turtle, used by Certina since the 1960s, stands for robustness and longevity. Today it can be found not just in the brand logo, but on every single Certina watch. On this quartz sports watch the turtle creates a lasting impression in elaborate 3-D on the case back.

The display showing 1/100th seconds in real time not only allows for highly precise time measurements, it is also fascinating to watch. In order to preserve a watch's energy reserves, the coloured 1/100th second hand stops after one minute, whilst the central stop second measures time unwaveringly, to exactly 1/100th of a second.

Now available at Rivoli and Hour Choice stores across the UAE, the black strap timepiece is priced at AED 2,830 while the timepiece with brown strap timepiece is priced at AED 3,160.