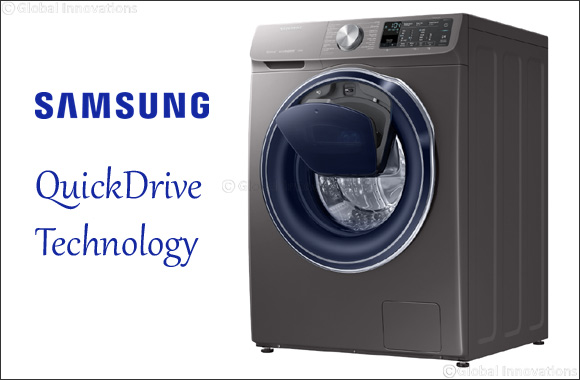 QuickDrive™ is the time-saving laundry solution you've always wanted but never had – until now
Dubai, UAE, September 30, 2018: The term laundry day was coined simply because laundry is one of the most time consuming household tasks. Depending on how many loads you need to wash, it's not uncommon for an entire day to escape you between separating, washing, drying, and folding. But laundry shouldn't require rearranging your schedule to accommodate for lengthy wash cycles – and with Samsung's QuickDrive™ washing machine, it never will. By dramatically reducing the time required to wash a load of laundry, Samsung's new QuickDrive™ technology frees up more time in your day to spend doing what you enjoy. With a range of advanced features that redefine the meaning of quick laundry, QuickDrive™ can turn any laundry day in your day with top-tier washing performance in half the time.
Expert Approved
Samsung's QuickDrive™ technology is approved by leading laboratories around the world for its quality and efficiency. Intertek, a multinational inspection, product testing, and certification company dedicated to ensuring product quality and safety, independently tested the QuickDrive™ technology and confirmed that it provides the same level of cleaning performance and fabric care as existing products while simultaneously reducing washing times . With certifications for washing performance, energy efficiency, and fabric care from Intertek, as well as a 20-year durability certification by the Association for Electrical, Electronic & Information Technologies in Germany, the QuickDrive™ washer is backed by some of the world's most discerning experts.
Q-Drum™
The QuickDrive™ washing machine uses Samsung's innovative Q-Drum™ to cut washing time by upto 50 percent and energy use by upto 20 percent without compromising on cleaning performance . The Q-Drum™ consists of a large main drum and a plate in the back that rotates independently, so clothes move from top to bottom as well as back and forth. In turn, the washer produces double forces that remove dirt quickly, gently, and thoroughly with an intense and complete washing cycle that takes half as much time.
Intelligent Laundry Assistant
A variety of intelligent features enabled by Q-rator, Samsung's intelligent laundry assistant, add even more convenience and flexibility to the QuickDrive™ washing machine. Laundry Recipe gives you automatic recommendations for optimal washing cycles based on information like color, fabric type, and degree of soiling, eliminating the guesswork from washing your clothes. Laundry Planner enables you to manage a cycle's finishing time, allowing you to control your schedule on your own terms, even when there are several loads to do. And HomeCare Wizard monitors the washer remotely, proactively alerting users to potential problems and providing quick troubleshooting support.