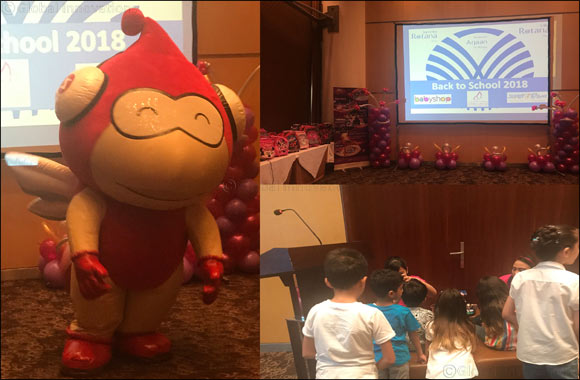 19th September, Dubai UAE: BurJuman Arjaan by Rotana, Jumeira Rotana and Villa Rotana hosted a Back to School fun activity with women and children of the Dubai Foundation for Women and Children (DFWAC).
The 3-hour event was filled with fun activities and exciting games, followed by a sumptuous feast of freshly prepared food and gift-giving.
Commenting on the event Mr. Ulrich Hoffmeister, General Manager of BurJuman Arjaan by Rotana and Jumeira Rotana said, "Back to school time is one of the occasions where children are so excited about the new school time and their new school bags, shoes and other items. Therefore, we are so pleased and delighted to share our blessings with the children of DFWAC."
Mr. Camille Saade, General Manager of Villa Rotana said, "It was a great experience seeing the children and women relishing this momentous event with us. The few hours with them created a memorable experience for us."
Ms. Ghanima Al Bahri, care and rehabilitation director of DFWAC, said, "DFWAC would like to thank BurJuman Arjaan by Rotana, Jumeira Rotana and Villa Rotana for such a wonderful event that was truly enjoyed by everyone, both children and adults alike. We are always grateful for their time, undying support and generosity."
BurJuman Arjaan by Rotana, Jumeira Rotana and Villa Rotana would like to thank Sparkys for the action-packed entertainment like face painting, mascots, fun games, balloon decorations and a lot more as well as Babyshop for extending their gifts of school bags to all children.

The three hotels of Rotana have been supporting DFWAC for the past years and became wider in exploring meaningful ways to enhance the lives of its members and in supporting the sustainability of the shelter and the well-being of the women and children who have been victims of domestic violence and human trafficking.
Dubai Foundation for Women and Children (DFWAC) is the first licensed non-profit shelter in the UAE for abused women and children. It was established in July 2007 by His Highness Sheikh Mohammed bin Rashid Al Maktoum, Vice President and Prime Minister of the UAE and Ruler of Dubai, to offer victims immediate protection and support services in accordance with international human rights obligations. The Foundation provides a helpline, emergency shelter, and support services to women and children victims and aims to protect abused women and children, prevent ongoing abuse and the escalation of violence, and promote social awareness through education and outreach.