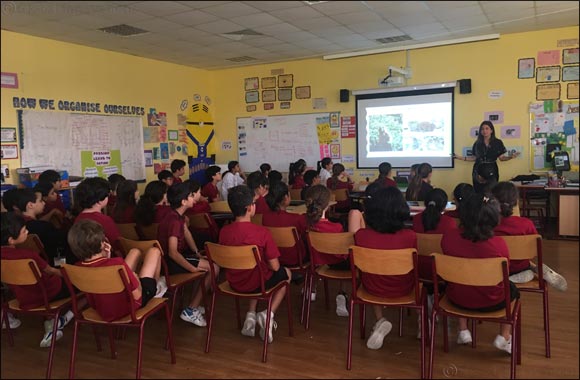 Dubai, UAE, May 29, 2018: The International Fund for Animal Welfare (IFAW) is visiting the schools in the UAE to raise awareness on the importance of animal welfare through lively and interactive context-related presentations and activities.
The activity aims to address the negative impacts of raising wild animals as exotic pets, which is practiced in some of the Arab countries, and explains the difference between Animal Welfare and Animal Rights - teaching the students on ways to assess the welfare of the animals at home, community, or even in the wild. The program is outlined to also raise children's awareness on the endangered animals in the MENA region, like the Barbary macaques - an endangered primate in the Kingdom of Morocco, and our efforts to protect them through "Born to be Wild". A project initiated and funded by AAP Animal Advocacy Protection (AAP) and executed together with IFAW in cooperation with the High Commission for Water and Forests and the Fight against Desertification (HCEFLCD).
IFAW strongly believes that the young generation is the future generation and thus urges schools in the UAE to reach out to the organization to raise the children's awareness from an early stage, helping them build the right attitude towards the animals in their community and cultivate their interests in animal welfare.
Nevertheless, the organization indulges in conversations with the students and aims to be present to answer any questions the students may have to encourage them as young citizens to take part in helping save our eco-system.
Founded in 1969, International Fund for Animal Welfare (IFAW) is a global non-profit organization that protects animals and the places they call home. With offices in 15 countries and projects in over 40, we rescue, rehabilitate and release animals into secure landscapes around the world. In collaboration with both governments and local communities, our experienced campaigners, legal and political experts, and internationally acclaimed scientists pioneer lasting solutions to some of the most pressing animal welfare and wildlife conservation issues of our time.