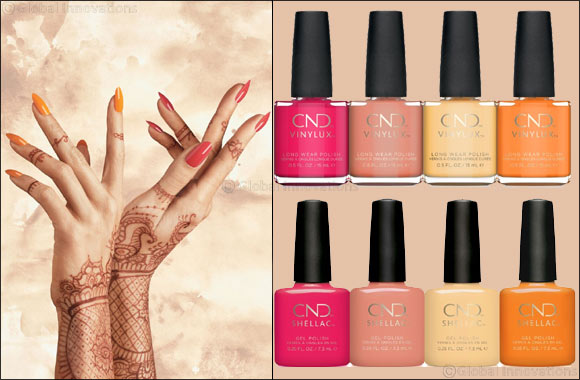 Dubai, UAE, May 15, 2018: Upbeat and highly pigmented shades of red heat up the new Summer 2018 shade collection, Boho Spirit. The tones evoke thoughts ofwarm sunsets inindie orange and desert rose. Combinations of dark ginger and fiery coral brighten up the medley of colors. Contemporary yet rustic, Boho Spirit is a versatile mix of sun-kissed tones that reflect the fervent energy of Summer.
CND™ Shellac™ Gel Polish
Featured Benefits: Delivers 14+ day wear and stunning crystal shine with no nail damage when used as directed; The CND Shellac™ Original Base Coat; CND™ Shellac™ XPRESS 5 Top Coat and CND™ LED lamp deliver faster-than-ever service time and amazing 5-minute removal; CND™ Shellac™ DURAFORCE Top Coat offers 25% more protection for weakened nails and 15-min removal. 25% thicker formula vs. SHELLAC™ Original Top Coat
Availability: May 2018; Visit the Salon Locator on CND.com to find Shellac Brand Certified Pros.
Vinylux™ Long Wear Polish
Featured Benefits: Delivers 7-day wear, gel-like shine and fast-drying color in a 2-step Application; CND™ Vinylux™ Long Wear Polish top Coat features increased durability when exposed to natural light.
Availability: May 2018; Visit CND.com/VINYLUX for salons and retailer information