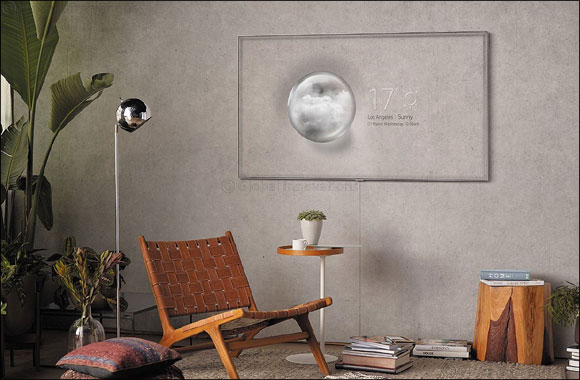 The New QLED TV was launched during an immersive and experiential event that demonstrated features such as the Ambient Mode and One Invisible Connection
DUBAI, UAE – May 13, 2018: Samsung Gulf Electronics today launched its all-new 2018 QLED TV during an immersive launch event held at the JW Marriot Marquis in Dubai. The Q House experience highlighted the features of the 2018 QLED TV during an interactive session that detailed Samsung's offering through an experiential demonstration with the Q Family in the Q Picture, Q Smart and Q Style Rooms. Samsung debuted many exciting new features that enable incredible picture quality, smart capabilities and unique design elements that allow the TV to effortlessly complement the home's décor.
New to Samsung's 2018 QLED TV lineup are several features that are designed to meet consumers' needs for better picture quality, enhanced home decor, convenience, connection and sharing. These include new smart functionality featuring the redesigned One Invisible Connection. Further differentiating Samsung's unique TV design, the new lineup also features Ambient Mode, a futuristic solution that allows the TV to blend into the home environment like never before. Additionally, Samsung is reinforcing its commitment to ultra-large screen televisions by introducing several models across its lineup in sizes that are 75-inches and above.
"We continue to offer consumers an unforgettable experience when it comes to our new product launches. The 2018 QLED TV demonstrates Samsung's direction to deliver products and solutions that cater to a multitude of consumer lifestyle, which we were able to demonstrate in an interactive and exciting way as part of our Q House," said Jerric Wong, Head of the AV Division at Samsung Gulf Electronics. "We are excited to bring our new TV lineup to the UAE with features that offer more freedom to decide where and how the TV can be best enjoyed within the home."
Highlights of the 2018 lineup include:
Perfect Picture Quality
The new QLED TV can produce 100% color volume in the DCI-P3 color space, the format for most cinema screen and HDR movies for television. The QLED's Quantum dot display can also create over one billion shades of color and can manage up to 2000 nits brightness offering a thoroughly perfect picture quality with more colors and even greater contrast, further brightening the bright and darkening the dark part of an image, allowing you to see incredible details you surely would have missed. Furthermore, the QLED TV solved the problem of the reflection of objects around the screen which can cause discomfort by using Anti-reflection technology. Even under daylight or bright lighting, an anti-reflective screen dramatically reduces glare, allowing you to be more immersed in images regardless of the surroundings.
Furthermore, the Q9F QLED TV deliver stunning images with pristine contrast through Direct Full Array (DFA) technology. Direct Full Array uses a panel with zones of smartly controlled backlighting that adjust automatically to deliver deep blacks and pure whites.
Ambient Mode
Ambient mode provides useful information throughout the day – even when consumers aren't actively watching movies and TV. It can play music as well as display. Time & weather, decorative images and a collage of your own photos For wall-mounted TVs, Ambient Mode can mimic the pattern on the wall behind the TV to create an astonishing visual effect in which the TV blends seamlessly into the wall.

One Invisible Connection
The new One Invisible Connection is one slim cable that combines both consumer's power and AV data to the TV; it frees consumers from having to place their TV near data or power outlets.

Smart TV, Smartthings App
The QLED line's smart capabilities offer revolutionary ways to set up the TV and find content. Effortless Login uses the new SmartThings app* to drastically reduce the time it takes to set up a new TV. And with Samsung's intelligence platform the built in voice assistant is perfect for commanding tasks to the TV coupled with the One remote controller that controls all the devices connected to the TV.
Samsung 2018 QLED TV Lineup Details
The 2018 Samsung QLED TV lineup features different models, available in a variety of sizes and in both flat and curved display options.
QLED TV: Models in the 2018 QLED TV lineup include – Q9F (65", 75"), Q8C (65"), Q7F (55", 65", 75") and Q6F (55", 65", 75"). The QLED TVs feature enhanced color and contrast, HDR10+ compatibility, Ambient Mode, Smart TV enhancements with One Remote Control and the One Invisible Connection. One Invisible Connection only can be used with Q7 series and higher models.
Samsung's 2018 QLED TVs will be available across major retailers and Samsung brand stores by 15 May 2018 at a price ranging between AED 6,499 to AED 26,999.