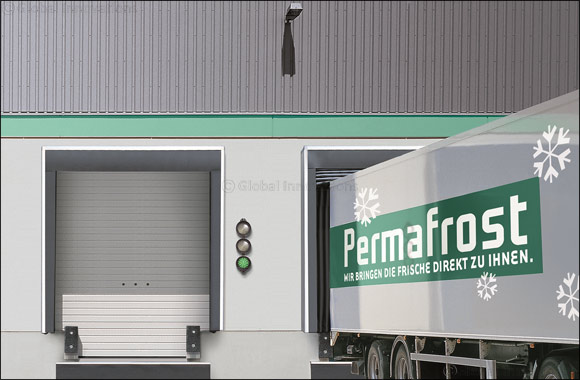 Dubai, UAE; May 09, 2018: Hormann Middle East and Africa, has launched the upgraded DOBO system allowing increased security and reduced heat loss through the loading bay doors when trucks dock.
DOBO system ensures safety and prevention of theft. With this system, the lorry doors are only opened shortly before loading. The semi-trailer can remain docked to the loading bay unattended, for example, overnight. It also provides safety for drivers: they can dock completely without exiting the vehicle, preventing them from entering the zone between the vehicle and the ramp.
DOBO system is also perfect for refrigerated warehouses. To fully utilize the floor space of a refrigerated warehouse, the DOBO system is combined with a thermal loading house. The industrial door closes the loading house from the outside. The expended temperature-controlled area is insulated efficiently through insulated panels on the exterior walls and under the pedestals as well as the door in front of the dock leveler. DOBO system can also prevent any interruption of the cold chain of refrigerated or frozen goods as the lorry doors are only opened after docking. The optimally coordinated Hormann DOBO system offers a high degree of comfort and low energy loss.
Darius Khanloo, managing director at Hormann Middle East & Africa, comments on the upgraded DOBO system, "Hormann DOBO system is a well-designed solution for precisely compensating the differences in height between various lorry floors and ramps. With dock levelers, the load can be moved in or out of the lorry in a single horizontal movement."