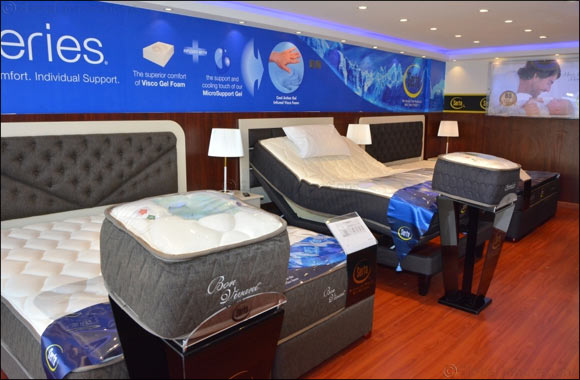 Discounts from 40% on select range of mattresses and accessories
Dubai, UAE (January 2, 2018): Dubai Furniture Manufacturing Company LLC (DFMC), a market leader in premium mattress segment in Middle East, has announced its exciting offers for Serta mattresses during the 23rd edition of Dubai Shopping Festival (DSF).
If you are in the market searching for a new bed, now is the time to invest in a Serta product such as the Ergo bed. Customer is entitled to get a discount of 45% on Ergo bed along with Chronicle, Bonvivant and latex mattress. Complete the purchase with a headboard and a side table that can also be offered at 45% discount.
Customers who also spend Dhs1000 on any Serta sleeping product and accessories is entitled to get a voucher of Dhs400 while select grades are also on offer with 40% discount and flat 40% discount on bedding accessories.
"A mattress is a very personal thing, so it's important to get the one that suits your particular needs. Try investing as much as you can afford on a decent model," said Sundar Rajan, CEO of Dubai Furniture Manufacturing Co., LLC. "The bedroom is the place where we spend a third of our life so it pays to make sure it's comfortable and will make a huge difference to the quality of our sleep."
The range of Serta products on offer include the latest range of iseries mattresses, described as the most advanced sleeping system to date because of the innovative technology used to manufacture the product which suits even the most sensitive sleepers.
Serta's iseries sleep systems uses the cool action micro support gel Technology, a two-part mechanism which uses millions of temperature regulating gel beads enabling the mattress to take heat away from the body and dissipate it effectively while also boosting support.
Visit the Serta showrooms and choose the right mattress and sleeping accessories to spend the day feeling good. The sale includes the full range of bedding accessories such as pillows, mattress protectors, mattress topers, duvets and linen sets.