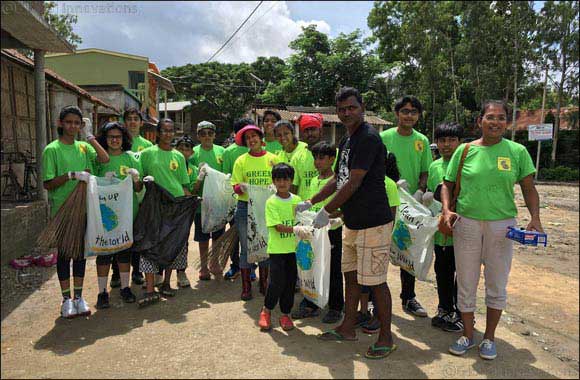 Dubai, UAE, August 28, 2017: 28 youth environmentalists from Green Hope , comprising of our members from UAE and Oman , have just returned from an amazing biodiversity conservation project in the Sunderbans ( India ) which is the world's largest mangrove forest.
Green Hope has , over the past 5 years , worked on several aspects of sustainability , involving children and youth , who are the 'Future Generations' so that we can take charge of our own destiny and preserve the environment for generations to come.
Biodiversity conservation is one of our major focus areas and in this regard we have been working to raise awareness about several endangered ecosystems , amongst which mangroves are one of the most fragile. These mangrove belts are home to a varied spectrum of flora and fauna and they also help to protect our shores from tidal waves. However, human encroachment and pollution are rapidly depleting these mangroves and most of this change is irreversible.
The Sunderbans is the world's largest magrove forest and it covers several thousands of square kilometers in eastern India and Bangladesh . It is also home to the Royal Bengal Tiger which is now a critically endangered animal and faces the same threat as its mangrove habitat. Green Hope decided to visit the Sunderbans with a team of its youth environmentalists to gain first hand knowledge about the situation on the ground and also to engage with the local human population to educate them about conservation so that they would work to conserve the mangroves and live in harmony with their surroundings.
A team of 28 Green Hope members from UAE and Oman visited the Sunderbans from 17th Aug onwards . This Oman team comprised a delegation from the Indian School Muscat which is a core partner of Green Hope in Oman. Over the next few days, we planted over 300 mangrove saplings in an island which was destroyed by cyclone Aila. These mangroves will now provide natural barriers for that island.
We travelled by boat through the densely forested mangroves visiting several villages situated on the riverine islands and interacted closely with the residents.The villages had beautiful lyrical names like Dayapur, Satjelia, Gosaba, Sonagan, Dulki . Our delegation consisted of students aged 6 to 17 , with Ashwel being the youngest at 6 .
They did not have electricity or running water and the residents mostly lived off agriculture and forest produce. We conducted 4 workshops for the residents and village students and explained to them the need to protect the environment , to keep it clean , avoid pollution and the importance of conserving the mangroves which provided them with their livelihood. Their response was beyond what we had imagined. They were extremely open to our ideas and understood the need for a long term approach wherein both humans and the environment could live and flourish off each other. We used art, music and dance to create awareness. Since I can speak the local language, we conducted these workshops in English and Bengali. We conducted an SDG Festival through art.
During our visit we also conducted village cleanups and worked with the local people to collect the litter from the village roads. This action demonstrated to the villagers the need to dispose off litter in a proper manner and we also explained to them the advantages of recycling and to do away with plastic.
We also visited a tribal village where we distributed clothes, torches, umbrellas, chocolates and school supplies which we had carried with us. The smiles on their faces really made our efforts worthwhile.
We returned from the Sunderbans, full of hope that we had made a difference to the lives of the people living amongst the mangroves and that they would now work to conserve it for generations to come.