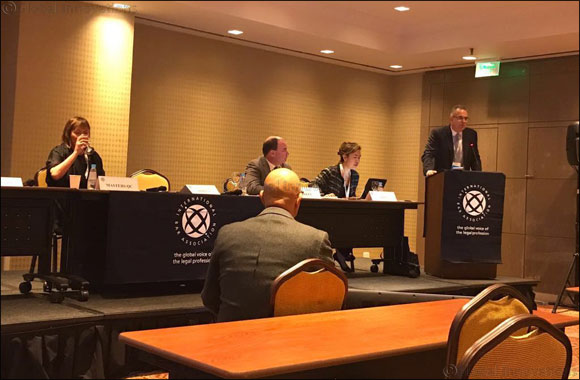 Dubai, UAE, 11th June, 2017: Continuing to raise awareness of its services with international markets, the Emirates Maritime Arbitration Centre (EMAC) participated in the International Bar Association (IBA) Maritime and Transport Law Conference, from 7th to 8th June at Rio de Janeiro.
Presented by the IBA Maritime and Transport Law Committee, supported by the ICA Latin American Regional Forum, the 2017 Conference focused topics related to changes in the maritime sector including legal challenges supporting the changes.
As part of the Centre's attendance, EMAC Executive Committee Member, Richard Briggs participated in the Conference's Key issues in arbitration – a comparative study panel. Conducted on 8th June, the panel examined key issues in maritime arbitration and how these are addressed in three major arbitration jurisdictions; Singapore, the United States and the United Kingdom. Expanding on the issues, the panel discussed how similar issues were addressed in other maritime markets, including Latin America and the Middle East. Furthermore, the panelists discussed current issue in the sector including the selection of arbitrators and the consolidation of proceedings.
According to Mr. Majid Obaid bin Bashir, Vice Chairman and Secretary General at EMAC, the Conference helped EMAC continue to raise awareness of the services offered by the Centre, specifically those tailored to meet the needs of regional and global clients.
"2017 has seen the EMAC team work tirelessly to introduce the Centre to the international maritime market, with successful introductions to the Asian and European hubs. We are now looking forward to connecting with the American and Latin American maritime communities and introducing them to the Center and the benefits it brings to the wider maritime sector."
He adds, "These conferences go further than introducing a new Centre to the maritime market. They ensure the global maritime industry knows they have access to a panel of regional and international arbitrators, mediators and experts committed to the delivery of services which are current and trusted."
EMAC's participation at the IBA Maritime and Transport Law Conference included sponsorship of one of the networking lunches where leading maritime lawyers gathered to discuss current issues, advances and improvements to maritime law in multiple jurisdictions