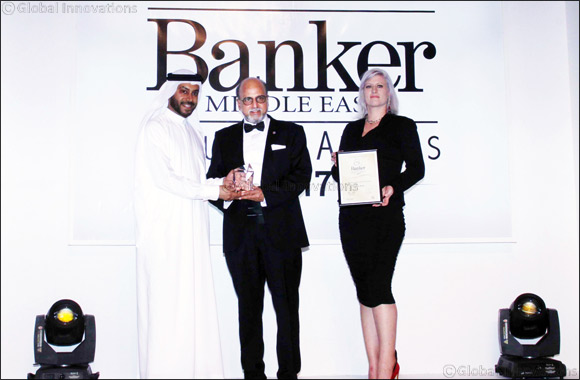 Dubai, May 14, 2017: Doha Bank has been named the 'Best Regional Commercial Bank' for the fifth time in a row at the Banker Middle East Industry Awards 2017. The awards were presented in Dubai on 11th May 2017 at Emirates Tower Hotel, Dubai.
Dr R Seetharaman, Group CEO of Doha Bank, received the award on behalf of Doha Bank and said "To be recognised as the foremost commercial bank in the Middle East for a fifth straight year is a firm acknowledgement of the effectiveness of Doha Bank's business strategy and the value it provides to its various stakeholders. In 2016 through the efficient asset allocation model the return on average Shareholders' equity was 12.1% and return on average assets was 1.21% which is a clear demonstration of the effective utilization of funds. Some of the major initiatives in 2016 include, Doha Bank in line with its international expansion strategy inaugurated its 13th representative office in Bangladesh during Q4 2016.
In August 2016 Doha Bank inaugurated its relocated Kochi Branch at Lulu Mall. Doha Bank also entered into a Memorandum of Understanding (MoU) with Centrum Group, India to facilitate the development of GCC business for Centrum with its network while Centrum will reciprocate with the same in India for Doha Bank. Doha Bank concluded re-financing of Tornado Tower in West Bay. As a step to improve customer convenience, Doha Bank undertook multiple initiatives such as – opening its dedicated 'Card Delivery Centre' at City Centre, inaugurating a state of the art branch at Al Gharafa. Doha Bank concluded its 7th consecutive Summer Promotion campaign for its credit card holders on the occasions of Ramadan and Eid season, through attractive rewards such as 10% cash back across all Qatar Duty Free (QDF), 5% cash back on all foreign currency transactions. As a first in Qatar, Doha Bank also launched 'Biometric Access' for mobile banking application. During last year, Doha Bank also offered various limited period offers such as 'Double your Salary', 'e-statement registration', '0% payment plans', 'free cabin bag' and 'complementary gift vouchers' in coordination with popular merchants. Doha Bank also demonstrated its leadership by organizing a one of its kind camp for Qatari small and medium enterprise businesses in Qatar. Earlier during 2016, Doha
Bank received PCI-DSS Level 1 certification from SISA preceded by upgrading its card processing system in order to provide faster system performance as well as better safety through 'credit card fraud guard module'. Doha Bank became the first bank in Qatar to achieve accredited certification for ISO 9001:2015. "
Doha Bank believes in providing innovative offerings to its customers through digital technology which will also contribute to sustainable performance of Bank. The award is a reflection of Doha Bank's leadership on sustainable growth,' said Dr. R. Seetharaman.
This award is the latest in a string of prestigious regional and international accolades received by Doha Bank over the past year. Recently the Bank won "3G Environmental Responsibility Award 2017" at the Global Good Governance Awards 2017, "Most innovative Bank in the Middle East" at EMEA Finance Middle East Banking Awards 2017 and "Best Trade Finance Bank in Qatar" at Global Finance Awards 2017.