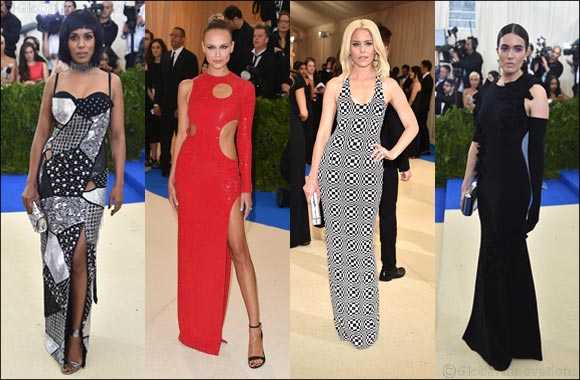 Michael Kors is pleased to announce that the following guests wore Michael Kors Collection to the Metropolitan Museum of Art's Costume Institute Benefit and opening of "Rei Kawakubo/Comme des Garçons: Art of the In-Between" on Monday, May 1, 2017 in New York, NY.
Kerry Washington: Custom black double-crepe-sablé cutout gown with silver patchwork embroidery, silver Niki snakeskin sandals from the Fall 2017 Michael Kors Collection, a black pin-embellished velvet choker and a silver Yasmeen grommeted snakeskin clutch from the Resort 2017 Michael Kors Collection.
Elizabeth Banks: Custom black-and-white sequined optical checkerboard stretch-tulle gown.
Mandy Moore: Custom black asymmetrical cashmere gown with hand-embroidered floral corsages, a black cashmere glove, silver asymmetrical studded earrings, a silver studded ring and a silver python clutch.
Natasha Poly: Custom crimson asymmetrical stretch-cady cutout gown with sequin-and-crystal embroidery, black Jacqueline leather sandals and a crimson snakeskin clutch.
Yang Mi: Custom suntan-and-black sequined trompe l'oeil stretch-tulle gown with a pearl-embroidered neckline, and black Tatiana suede platform sandals and a Yasmeen snakeskin clutch from the Spring 2017 Michael Kors Collection.
Aerin Lauder: Custom white double-crepe-sablé gown with black floral embroidery.
Nnadmi Asomugha: Black wool-twill tuxedo with satin piping from Michael Kors Mens.