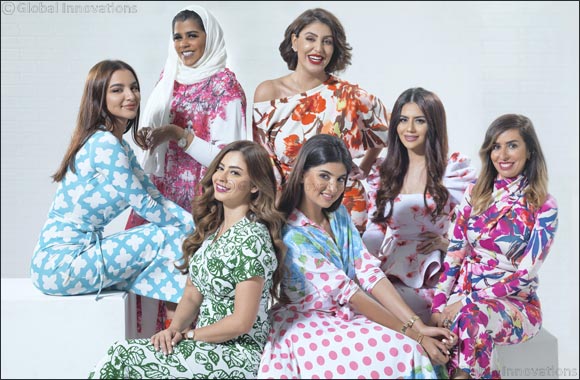 Ariel Platinum partners with Zeena Zaki to unveil the power of print trends this SS17, revealed by the region's leading fashion trend-setters
Dubai, UAE, May 4, 2017: Ariel Platinum announced the launch of its first High Definition fashion collection, created by renowned haute couture fashion designer, Zeena Zaki. The stylish new collection features strong patterns and bright colour contrasts that are paired together in a selection of skirts, dresses and jumpsuits, designed specifically to showcase the benefits of using the new Ariel Platinum detergent to deliver the best for an HD clean. The designs portray colours that are bold, bright, sharp and crisp – the ideal and trendy look we all want for our most amazing post!
New Ariel Platinum has launched exclusively in the Gulf region for the very first time. Ramy Tarshouby, Ariel Brand Manager in the Gulf, states: "We live in a high definition (HD) world – a world of clarity, contrasts and flawless imagery that is constantly elevating our standards and expectations. And, this is particularly relevant in our Gulf region. HD is now a must in every aspect of our lives, including in our wardrobes. With our Ariel Platinum HD innovation, we are eager to showcase our commitment to providing a new standard of clean for the most demanding consumers."
Ariel Platinum is specially formulated to remove dullness and rejuvenate fabrics to restore and maintain both the whiteness and colour vibrancy of clothes. It also helps to protect clothing from turning dingy and yellowish over time. Fashion trendsetters Dana Al Tuwairish, Taim Al Falasi, Ola Farahat, Deema Al Asadi, Shahd Al Jumaily, Rania Fawaz and Dania Hakim were selected to unveil the collection and to bring their own touch of style to each piece.
"We invest a lot of time in selecting clothes that reflect our style, personality and the season's latest trends. And, in our region, we focus on items that reflect confidence in keeping up with the new trend." Says fashion designer, Zeena Zaki. "Part of the journey of designing new pieces, is ensuring that the beautiful pieces continue looking great after several wear and washes. I want all my customers to have the best standard of cleaning for their wardrobe items and after partnering with Ariel Platinum to design this line, I am confident this product goes beyond stain removal to maintain a flawless look even after many washes"
Get #HDClean with Ariel Platinum HD
Our favourite clothes often become dull and yellowish over time, losing their vibrancy. This happens because clothes collect dirt from the environment and from our bodies every day, such as dust and pollen. Without proper care, after multiple wear and wash, this dirt becomes visible in the form of yellowish or greyish layers, causing clothes to look dull and faded. The high definition cleaning system of Ariel Platinum is designed to purify the fibers and effectively remove the dirt, lifting away dullness from whites and colours to give clothes the beauty they have when they are first bought. An HD Clean to maintain your clothes' HD beauty, with #NoFilter required!