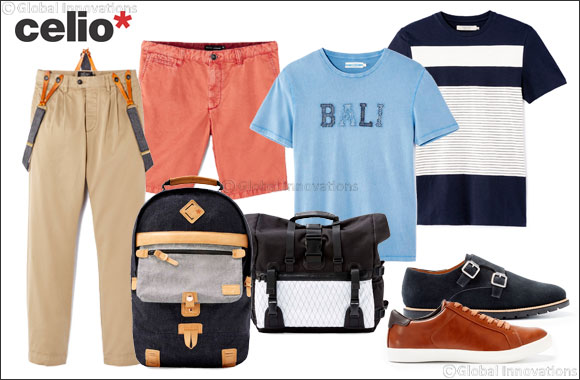 The French fashion house for men takes you on a journey to six most popular destinations in the world with it Spring Summer 2017 collection
Dubai, March 12, 2017: Celebrate the most vibrant locations in the world with Celio's latest Spring Summer 2017 (SS-17) ready-to-wear clothing. The popular French brand of clothing for men takes you on an unforgettable journey through six destinations with its latest collection, feeding your hunger for travel this season. Tokyo, New York, Los Angeles, Bali, Ghana and New Orleans shine with glory this summer through Celio's SS-17 range.
TOKYO
This huge, world famous city, the cradle of future-trends and current fashions alike, never fails to make you lose your bearings with its simpleness and peace. Celio takes inspiration from this carefully-controlled blend and is proposing a work wear range which is both understated and refined but also fun and sharp. Based on US work wear revisited with an authentic Japanese touch, this line adapts to all body shapes with its clothes which have been designed to put you at ease. A strong washed-out vintage jeans wear influence combines perfectly with flashes of vibrant colours and fun prints. The bright beachwear contains swimsuits in fluorescent colours.
NEW YORK
The hustle and bustle of New York, and Wall Street in particular, inspires celio to highlight a casual and chic line. Casual for a relaxed wardrobe with light jackets, summer chinos and bermuda shorts available in a wide range of colours, jersey jogging pants or low canvas trainers to be worn with the most chic pieces such as a suit jacket or trousers. This full wardrobe is made up of new shapes from an updated tradition, one which marries technical precision and quality. Neutral tones such a beige, navy and black are enhanced by the stripe which adds a new dynamic.
LOS ANGELES
We are fascinated by the south west of the American continent, and more specifically Los Angeles and its Mediterranean climate: sun, fresh air and the simple forms of the desert create the inspiration for a minimalist style, a functional expression stripped of all excesses. Celio is concentrating on what is essential and simplicity and is launching a range of stripped-down pieces in mineral colours, 'good basics' which have been reinterpreted with extra soul and premium materials. Among the strongest pieces feature an ecru cotton short gabardine coat, a wind-cheater with a white-trimmed cotton hood and pale grey flamed cotton sweatshirts.
BLUE BALI
This is a 'denim wear' line par excellence produced by one basic trend, culture accompanying indigo colours. From this noble, natural pigment, which is used all around the world, the indigo colour depends on the number of times the fabric is plunged into the colour tank. From the deep, intense indigo of the ocean, to the aqua indigo of lagoons and the sky, via indigo which has been washed multiple times, these blues are worn with very light-coloured leg wear: from white for trousers to sand-coloured tones for bermuda shorts. For high summer, the palm-leaf print and the tropical leaves are dotted on chambray shirts or cotton t-shirts. The colour palette is as if it has been aged by the action of the sun and the water. With this wardrobe, celio is combining bleached jeans and tie-dye t-shirts, bermuda shorts and accessories.
GHANA
A very relaxed wardrobe which imposes a graphic, colourful style which draws its inspiration from the denim world. With not just indigo blue, the trend extends much more widely to earth, terracotta, beige, brown and khaki denim colours. Particular care has been taken with the prints, embroidery and finishes. Among the strongest pieces are a long-sleeved shirt with military pouches embroidered on the back, many short-sleeved shirts with geometric, animal or leaf motifs and a wide range of washed cotton bermuda shorts.
NEW ORLEANS
Because nothing is more vital than to enjoy life, celio is highlighting New Orleans, with its rich history, its culture and its community of artists. Just like the city itself with its artistic atmosphere and Jazz culture, this more formal wardrobe contains a combination of old and new trends. The 50s-cut suits are available with cross-over jackets in traditional colours. These 'city' dress codes reveal a timeless look where the finish revisits tailors' codes: saddle-stitch tailoring and contrasting details for linen and premium cotton suits. While not getting carried away, small printed cotton scarves and hats accessorise the range.