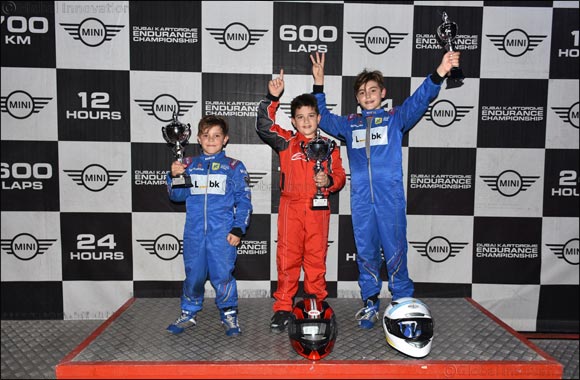 Labrooy tops SWS Senior Cup and Winter wins SWS Masters
Dubai, UAE, 10 January 2017: A brilliant qualifying session at Dubai Kartdrome on Monday (9 January) saved the night for Zaid Haddad, edging him past Keanu Al Azhari and putting him on the top step of the SWS Junior Cup Podium for the first time. Romaldo Labrooy and Carsten Winter both returned to winning ways to claim SWS Senior and Masters trophies.
Zaid Haddad opened the SWS Sprint Series evening with a best qualifying lap time of 1:20.260, which was just 0.111 seconds faster than Keanu Al Azhari. That precious gap would later prove decisive for victory at the end of the event.
Going from pole position to the chequered flag in Race One, Haddad clocked a time 5.695 seconds ahead of his nearest rival Maxime Dubos. The Al Azhari brothers, Enzo and Keanu trailed in for third and fourth place with the two of them featuring prominently in the next contest.
Zaid took control of Race Two from the get go but this time Keanu and Enzo were right on his back bumper, patiently waiting for the chance to pounce. That opportunity wouldn't come until the last lap of the race when the mounting pressure finally caused the frontrunner to spin his kart. Both Al Azhari brothers jumped past with Keanu crossing the finish line first and Enzo in second.
The spin was a catastrophe for Haddad, who managed to recover and take fourth place behind Jake Anderson in third. It appeared Zaid's chances for his first SWS triumph were dashed.
When the points were tallied for the two races Zaid Haddad and Keanu Al Azhari were level at 71 each. Qualifying results determined the tiebreaker, and that meagre 0.111 seconds gap from the qualifying lap was enough to settle the matter at give Haddad the first place trophy.
Keanu and Enzo were happy to receive second and third place silverware marking the first time the two brothers' secured podium spots in the SWS Junior Cup.
For the second SWS Senior Cup event in a row Abigail Birch was unstoppable in qualifying, taking pole position over Anjum Sheikh by a scant 0.025 seconds.
In Race One Birch was unable to take advantage of pole, and she was quickly enveloped by a feisty pack of four other karts. Romaldo Labrooy emerged from the scuffle to take the win, 0.156 seconds ahead of Ahmed Al Hammadi, while Anjum Sheikh took third.
In Race Two the top five karts were again aggressive for the lead, but this time Anjum nabbed the chequered flag by 0.414 seconds over Romaldo, with Ahmed trailing just behind.
When the points were added up, the first and second place finishes were enough to put Labrooy on top for the night. Anjum Sheikh claimed second place silverware and Ahmed Al Hammadi merited third.
In the SWS Masters category, for drivers 35 years and older, Carsten Winter returned to the podium with a comfortable points win. Heiki Eelma scooped up second place and Kelly Fergal nabbed third.
The next SWS Sprint Series will take place Monday night, 23 January 2017 at Dubai Kartdrome.