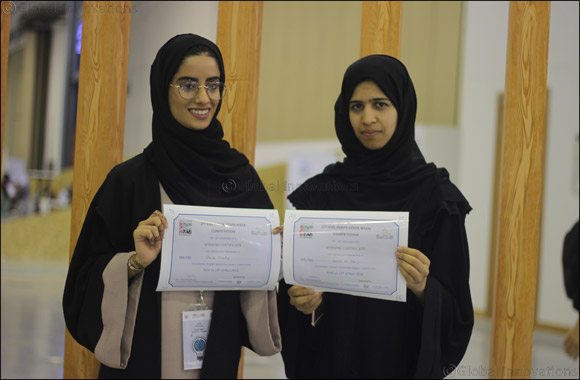 Sharjah, November 26, 2016: Winners of the University of Sharjah (UoS) competition for the UAE Innovation Week in Sharjah were announced on Thursday evening. UoS students Shaima Mohammed Towfiq and Aesha Mohammed Al Teneiji won the First Prize in the category of Best 10 Projects for their idea of Smart City Camera. While Mulham Soudan won the Second Prize for her Smart Home Energy Management project, Alaa Alhammadi, Hessa Al Shamsi and Shahad Moflah won the Third Prize for their Faz'ah: Drone project.
Huda Fareed Al Jasmi, Maitha Abdulrahim and Maryam Al Neuimi won the First Prize in the category of Best Ideas for their Emergency Traffic Light System project. While Basant M Anwar and Anhar Mamari won the Second Prize for their project, Measurements of Neutron Cross Sections, the Third Prize went to Sarah Ali Alkindi, Dana Yousef Kharouf and Maitha Almehairi for their project, Multitasking Smart Bag.
The prizes were sponsored by Sharjah Islamic Bank and the Economic Development Department, Government of Sharjah.
The UAE Innovation Week in Sharjah activities that opened at Expo Centre Sharjah on Sunday, November 20 and will continue till Saturday, November 26, have been attracting hundreds of visitors daily, including students from schools, colleges and universities across the Emirate.
The venue, Expo Centre Sharjah, has been hosting scores of presentations, workshops and lectures by renowned scientists, academics and experts.
All the activities of the UAE Innovation Week in Sharjah are open to members of public and media. The exhibition hall of Expo Centre Sharjah has been divided into six sections with innovative names denoting a scientific spirit.
The week-long festival of ideas at the Expo Centre Sharjah brings together hundreds of experts, innovators and academics representing public and private sector organisations, universities and government bodies and features more than 110 activities including, workshops, exhibitions, debates and skits.
The UAE Innovation Week in Sharjah is being held under the patronage of His Highness Sheikh Sultan Bin Mohammed Bin Sultan Al Qasimi, Crown Prince and Deputy Ruler of Sharjah and under the auspices of the Sharjah Consultative Council.