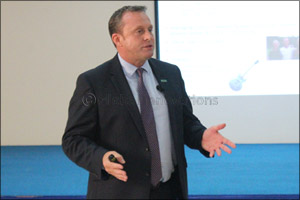 Sharjah, UAE, October 31, 2016: Skyline University College (SUC) Corporate Affairs Office (CAO) presented the 8th CEO Lecture Series with its keynote speaker, Mr. Chris Johnson, Vice President for Enterprise Group. Mr. Johnson who shared his thoughts and knowledge on the topic 'A Pathway to Success: How to Build an Inspiring and Meaningful Career' on October 10, 2016.
Mr. Johnson's remarkable years of experience in the business industry is truly an inspiring journey. He shared personal tips, corporate values, and right attitudes of a manager to the students. The talk was then followed by a student interaction where students asked questions and gained advice from Mr. Johnson.
SUC faculty members, current students, and alumni attended the event and took this rare opportunity to learn and get insights from a notable guest speaker.
The 8th CEO Lecture Series is an initiative of SUC Corporate Affairs Office headed by Mr. Mohammad Rasheed Khalid.