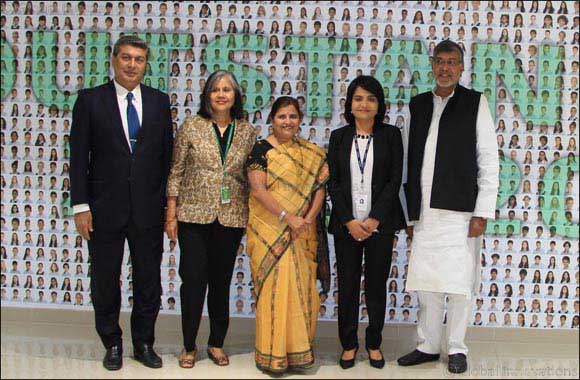 Dubai, UAE, October 22, 2016: Dubai International Academy (DIA), an outstanding International Baccalaureate school run by Innoventures Education hosted Nobel Peace Prize Laureate Kailash Satyarthi today on campus as part of their United Nations Day Assembly.
Satyarthi is an advocate for education and youth in India. He is also the founder of the Kailash Satyarthi Children's Foundation (KSCF) based in New Delhi and Washington D.C.
He commented: "I am a firm believer in ensuring the well-being of children everywhere and empowering children to stand up for their rights. The Kailash Satyarthi Children's Foundation (KSCF) believes that there is a need for evolution in the approach to policy, law and practice - across child protection, education, health, peace and conflict resolution."
"The UAE government is moving in the right direction with several budgetary allocations made towards developing the education sector in the country. These students will be the advocates of tomorrow and I am delighted to be able to engage with some of them here today."
Poonam Bhojani, CEO of Innoventures Education says: "We are pleased to host Mr. Satyarthi at the Dubai International Academy. He is a wonderful inspiration for our students as we educate them on human rights and education advocacy issues around the world. The assembly in honor of United Nations Day is very close to our hearts as we host DIAMUN – the Dubai International Academy Model United Nations every year right here in Dubai. The latest edition of the conference hosted over 1000 students from 45 schools around the world."
Sara Atassi, Secretary General of DIAMUN 2017 says: "Mr. Satyarthi's speech was motivating, enlightening and full of inspiration that caused the entire audience to experience the projection of his dream for a better world and a brighter future. As the Secretary General for DIAMUN 2017, I felt great pride when watching the students of DIA interacting so enthusiastically with such a distinguished public figure and philanthropist, and I hope to use DIAMUN 2017 to further encourage students to be leaders today, and future diplomats tomorrow.
DIAMUN is a fundamental aspect of Dubai International Academy's ethos. Founded in 2008, the programme is an entirely student-led initiative with some teacher oversight in administrative areas and is one of the largest THIMUN affiliated conferences in the Middle East.
MUN promotes broader understanding of political complexity by exposing students to democratic deliberation, differing viewpoints in debate and negotiation skills. The topics of discussion at DIAMUN often involve issues specific to the Arab World, giving students greater exposure and frameworks to approach local problems.
Mr. Satyarthi's visit and interaction with the students reinforces the role that society is playing in alleviating the suffering of children around the world – and the role that literacy plays in empowering them for future generations.