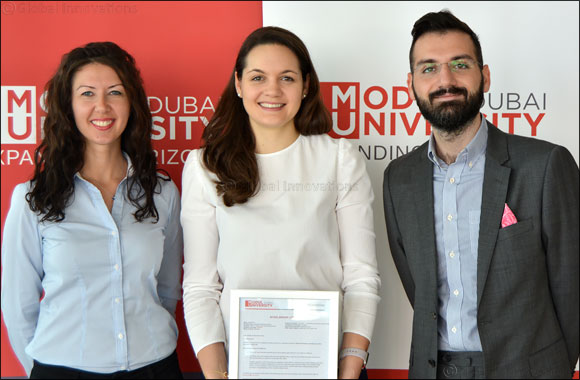 Dubai, UAE, June 1, 2016: MODUL University Dubai, a subsidiary of Dubai Investments Industries [DII] which is wholly-owned by Dubai Investments PJSC, and Austria's leading international private university, has announced that a hospitality professional associated with Jumeirah Group has been conferred a fully-funded MBA scholarship worth $26,000.
The scholarship, launched during the Arabian Hotel Investment Conference [AHIC] 2016 held earlier in May, was won by Stephanie Honoré, an Australian national with over seven years of international hospitality experience. The scholarship was launched by H.E. Peter Elsner-Mackay, Ambassador of the Republic of Austria to the UAE, at the MODUL stand at AHIC.
Zaid Maleh, Managing Director of MODUL University Dubai, said: "MODUL University Dubai congratulates Stephanie on being the first recipient of the MBA scholarship at the campus. Scholarships like this reinforces MODUL University Dubai's role in linking its academic and vocational programs with the needs of the hospitality market in the UAE and region and succeed in an already growing sector."
Thanking MODUL University Dubai, Stephanie said: "The MBA will enhance my career experience and provide me with unparalleled professional opportunities. MODUL University Dubai is a first class choice for an MBA as it is recognised globally as a leading institution in the fields of hospitality, management, economics and new media."
The scholarship program is part of the MODUL University Dubai's efforts to groom industry professionals and help build the skill sets as well as expertise in the hospitality sector across the region. The tourism and hospitality sector alone employs over 530,000 professionals in the UAE and is forecast to grow 9% year-on-year.
MODUL University Dubai offers undergraduate, graduate and MBA programs in the hospitality and tourism sectors, offered by Tourism College MODUL. The courses on offer at MODUL University Dubai are accredited by Knowledge and Human Development Authority [KHDA]. Vocational programs for undergraduates will also be offered at the University.
Admissions are currently open for September 2016 intake at MODUL University Dubai campus located in Jumeirah Lake Towers, Dubai.