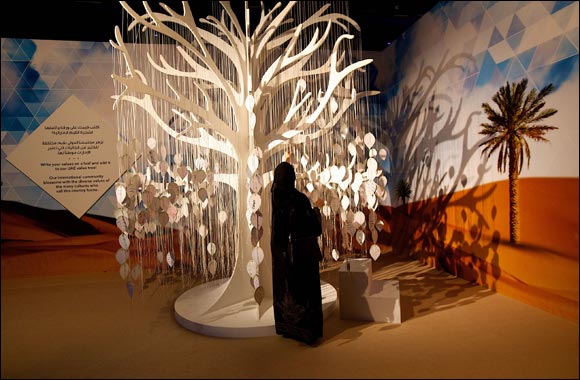 Abu Dhabi, UAE – 26 March, 2016: The gleaming Pavilion, which stands as the centrepiece of the Mother of the Nation Festival, has captivated thousands of visitors seeking to observe the fitting tribute to the inspirational values and lifelong vision, advocacy, and impact of H.H. Sheikha Fatima bint Mubarak.
In contrast to the enlivening energy of the festival's five distinct zones, the Pavilion houses 13 uniquely designed exhibits that feature the far-reaching efforts of H.H. Sheikha Fatima, Supreme Chairwoman of the Family Development Foundation, Chairwoman of the General Women's Union, and Chairwoman of the Supreme Council of Motherhood and Childhood.
The Pavilion measures 30x40 metres and is wrapped in Mashrabiya panels painted with metallic gold and printed fabric. Each exhibit invites visitors to reflect on the contributions of women to the welcoming, empowering, and forward-thinking community that is the UAE today.
Salama Al Shamsi, member of the Mother of the Nation Festival organising team, Abu Dhabi Tourism & Culture Authority said: "The Pavilion is testament to the Festival's mission of celebrating the countless women whose collective impact has nurtured and cultivated a society that thrives on cultural diversity."
"We invite visitors from across the UAE to transport themselves away from the busy streets of the capital into an artistic journey that recognises and celebrates the women who form the building blocks of our nation," Al Shamsi added.
Festival-goers are greeted with serene natural imagery and the soothing sounds of the "Mother Nature" exhibit, before entering interactive spaces including "Daughters of the Nation" and "Great Changes" that highlight the efforts of the country's dedicated, hardworking, and ambitious women.
At the "Value Tree", visitors are invited to add attachable 'leaves' connecting their own values with those of H.H. Sheikha Fatima, while a collection of photographs and accompanying text creates a mosaic of H.H. Sheikha Fatima's extensive impact as a role model for women in the UAE and around the world.
The Festival, which sits on 1.3-kilometres of Abu Dhabi's Corniche, offers five distinctly themed zones: Souq, Beach Dining, Active, Art, and Conservation. All areas of the Festival are designed to provide an interactive and immersive atmosphere for visitors — from individuals to families — including a collection of artistic and cultural activities.
Entry tickets are AED 20 per adult and AED 10 for children under 12, while children aged 5 and under are admitted for free. The proceeds from the festival will be donated to a charity chosen by the Festival's organising committee.
Parking is available opposite the Corniche next to Nation Towers. Throughout the festival days, there will be 10 shuttle buses every 5 minutes connecting visitors from the East Plaza to the Nation Towers car park, making 5 stops along the way. In addition, there is a special route from the Festival to and from Marina Mall every 10 minutes.